You are here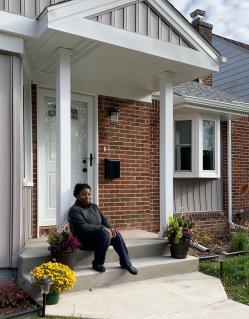 Frances James
Frances James admits she was tired of renting.
"I started praying to become a homeowner," she said. "Stepping out in faith, connecting with the right people and taking responsibility for the work I needed to do all led me to finally becoming the homeowner I always wanted to be. I was longing for this—it means financial stability and is a celebration for me and my family."
Her dream came true. In October 2020, the dining service director at Grandhaven Living Center in Lansing moved to a beautifully renovated 1940s home in the Quentin Park area with her daughter.
Frances's homeowner journey wasn't without perseverance and hard work. She experienced many stops and starts in the process and dedicated herself to being as informed as possible.
"I tell people not to give up. Take the homeowner classes and learn what you can—there is so much out there to know! "
Frances and daughter Crystal are eagerly anticipating summertime. They plan to host family barbecues, get to know their neighbors better and plant a garden together. Frances is also particularly excited to take on her first DIY home projects.
"Through my journey I held on to Proverbs 3:5-6, which says 'Trust in the Lord with all your heart and lean not on your own understanding; in all your ways submit to him, and he will make your paths straight,'" said Frances. "All I did was trust and believe in God. If he did it for me, he can do it for anyone."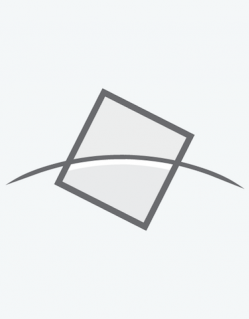 Gillespie Co
Until 2012, the corner of Michigan Avenue and Marshall Street was home to a dilapidated gas station that served only as an eyesore leading into Downtown Lansing. Luckily, the Gillespie Company and the Ingham County Land Bank had a vision to make the property into something the community could once again appreciate.
The Land Bank purchased the property with the intent for it to be sold and redeveloped commercially. The Gillespie Company worked with the Land Bank to purchase the property, renovate and remediate the underground tanks and soils, and build a three-story building with commercial space and 13 apartments, called the Avenue Flats.
"The board was very engaged and willing to work with me throughout the process, said Gillespie. "We all understood how critical the site was to the growth of the Michigan Avenue corridor."
Not only did the new flats improve the appearance of the property, but also the surrounding atmosphere.
"My favorite part of the property is that it brings life back to the avenue," said Gillespie.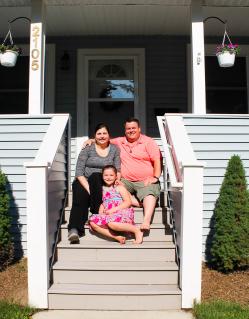 Dave Wellfare
Dave Wellfare moved into his Ingham County Land Bank house almost four years ago with his wife Kari and their seven-year-old daughter. 
After living in apartments for several years, Dave and Kari are glad to be in their neighborhood now.
"Our family life has changed a lot," Wellfare explains. "Now we have our own yard where my daughter can go outside and play. We have kids right next door and kids across the street."
When Dave, a State of Michigan employee, and Kari first saw the house, they couldn't believe that everything was as new as it was. The more Dave learned about Land Bank homes, the more interested he became.
"I like the idea of the Land Bank buying these houses and fixing them up, and making neighborhoods better and stronger. Our neighborhood particularly is a great neighborhood; it's a tight-knit community. Everyone around here looks out for everybody."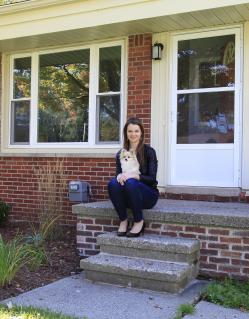 Louise Gradwohl
"As soon as I walked in I fell in love,"  Louise Gradwohl, now a medical student at Michigan State University and the former Old Town Commercial Association director, explains.
As a 23 year old, Gradwohl didn't expect to be a homeowner this early in her life. The Ingham County Land Bank, however, helped to make homeownership a reality for this young professional. 
"I never really thought I'd buy a house—especially at this age," said Gradwohl. 
Some of her former board members at the Old Town Commercial Association suggested she look at houses in her current neighborhood and she called her realtor right away when she heard one of the homes she was interested in was owned by the Land Bank. 
"I was excited to find a home that is actually close to where some of my board members live and is within the community I work in and love," said Gradwohl. 
As for the advantages of choosing a Land Bank house, Louise laughs as she explains, "I'm a single person, to be able to renovate an entire house would not have been possible for me, so I'm elated that I was able to move in to a Land Bank home."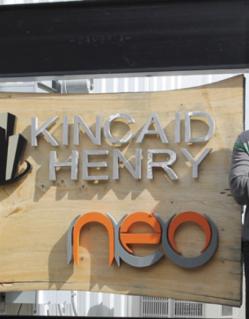 Kincaid Henry
"The fact that we could work with the Land Bank to reduce our debt services, meet the desires of our company and the incubator in this space, and make it palatable for everyone involved was incredible."
In December 2009, Lansing construction group Kincaid Henry purchased the vacant property at 934 Clark Street from the Ingham County Land Bank. Kincaid Henry wanted to transform the site from a once bakery/ printing company, to the official Kincaid Henry headquarters, and Lansing's first business incubator called the Center for New Enterprise Opportunity, or the NEO Center.
"There was everything wrong with the building," said Ryan Henry, co-owner of Kincaid Henry and the NEO Center. "It would have made complete sense to tear it down, but that's the very reason we wanted to save it. The building represents who we are and what we do, urban revitalization and in-depth redevelopment."
"Once we saw that we could do something really cool with this property and the Land Bank wanted to be behind us on the project we were set, we couldn't have done it without them, " said Henry.
The Land Bank worked with Kincaid Henry to structure a deal that allowed them to pay the Land Bank back for redevelopment costs through taxes.
"The fact that we could work with the Land Bank to reduce our debt services, meet the desires of our company and the incubator in this space, and make it palatable for everyone involved was incredible," said Henry.
Reporting an issue
Does a Land Bank property in your neighborhood have an issue we need to know about such as a downed tree or sidewalk that needs shoveling? Report the problem on our contact form or call one of our Land Bank team members at 517-267-5221.